Adulticides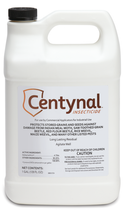 Centynal EC Insecticide
Get control over stored product insects with Centynal EC Insecticide. Effective when used alone or tank mixed with Diacon® IGR and/or PBO-8® Synergist, Centynal EC Insecticide can be applied directly to stored grains or as an empty bin treatment as part of proper sanitation practices.
Features and Benefits
Provides effective knockdown and control of stored product insects
Contains the active ingredient deltamethrin
For use on wheat, corn, rice, and other grains
Enhanced emulsifiable concentrate formulation reduces need for agitation
May be diluted with water or oil
Miscible in dust controlling oils
May be tank mixed with Diacon® IGR and PBO-8® Synergist
Broad-use pattern
CODEX approved
---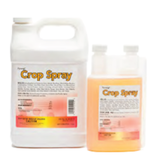 Pyronyl Crop Spray
Pyronyl Crop Spray is a concentrated pyrethrum insecticide that features a high ratio of active ingredient to synergist for the flushing and rapid knockdown of multiple stored product insects. Use it alone or tank-mixed with Diacon® IGR as an effective tool for applications in and around stored grain facilities.
Features and Benefits
Controls stored product insects
Contains synergized pyrethrins
Ideal for the rapid knockdown of multiple species
Quick degradation in the environment
May be used as a fogging agent in conjunction with Diacon® IGR
---