Head Protection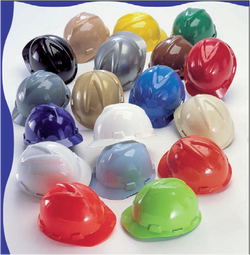 V-Gard® Protective Caps and Hats

• Polyethylene shell and your choice of suspension system

• Available in either cap or hat style

• Available in three sizes: small (6–71⁄8"), standard (6½–8") and large (7½–8½")

• MSA V-Gard Caps and Hats meet or exceed all applicable requirements for a Type I (top impact) helmet as outlined in both ANSI/ISEA Z89.1-2009 (Class E) and also as Certified to CSA Z94.1-2005 (Class E) with Fas-Trac® suspensions. The V-Gard Cap has been third-party tested in reverse (ANSI and CSA) and can be worn with the brim facing backwards (suspension turned around and nape strap in the rear).

• V-Gard Caps and Hats are not specifically designed to protect against lateral blows from the front, side, or rear.



---
Custom Imprinted Helmets

• V-Gard®, Topgard®, Thermalgard®, and Vanguard® helmets are available from MSA with your logo or slogan imprinted on the headwear.

• You can select the colors and the areas to be imprinted

• Single and multi-color imprinting techniques to provide a choice of up to four colors (five, if the color of the headwear is included in the design).

In addition to custom logo imprinting in up to four separate colors, MSA is proud to introduce the new Image 2000 Service, which uses a custom imprinting process for reproducing photographic images on MSA's white V-Gard hats and caps.

• Uses digital files (disc or CD) or a photo for scanning, MSA can reproduce your image on the front, back and/or sides of medium white V-Gard hats and caps

• Image 2000 Service available only on a white background since the white background ensures top-quality reproduction of your image.



---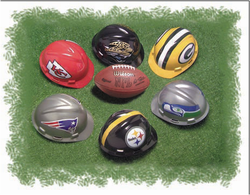 NFL V-Gard® Helmets

• Wear them at work, at home, or even at the game

• The NFL line of V-Gard Caps with the comfortable strap-adjustable, 1-Touch® suspension offers superior quality, comfort, and protection

• Meets or exceeds all applicable requirements for a Type I helmet as outlined in ANSI/ISEA Z89.1-2009 (Class E) and CSA Z94.1-2005 (Class E)

• Safety directors will appreciate how NFL V-Gard Caps complement a safety program and improve wearer acceptance


---